Repair & Service
Pool & Hot Tub Repairs & Service in Morganton, Marion & Lenoir

Schoenen Pool & Spa provides repairs and service for pools and hot tubs of any brand or make. We service a three county area and are ready to help. Please contact us to schedule a technician to come out to your pool. Once we have serviced your pool or hot tub, we will have a record of all of your equipment for future reference.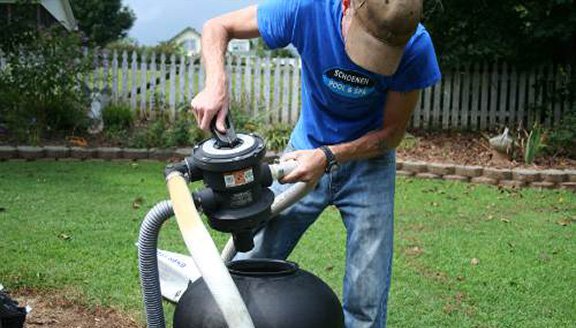 Pool Repair
Is your pool leaking? Liner faded or torn? Coping separating from the concrete? Motor making a loud noise? Whatever the damage may be, we are here to solve those problems. We have the capability to do leak detection using very sophisticated equipment to find the leak in your liner or plumbing. Once found, we are happy to patch the hole or repair the PVC. From big repairs like a liner to motor replacements, sand changes, pressure washing pool decks. Whatever you need, we are here and are ready to please you!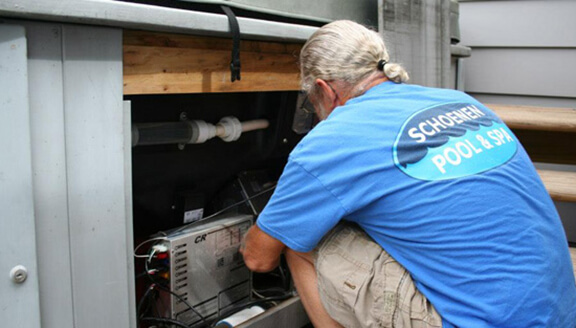 Hot Tub Repair
Has your hot tub stopped working? No matter the brand or age, we have solutions for repair. Repair or replacement of motors, equipment packs, topside controls, filters, pressure switches, thermostats, hi-limits switches, PVC, you name it, we got it! If you are looking for us to repair for you or if you are doing it yourself we are glad to give advice, supply parts and have you relaxing, enjoying and having fun all over again!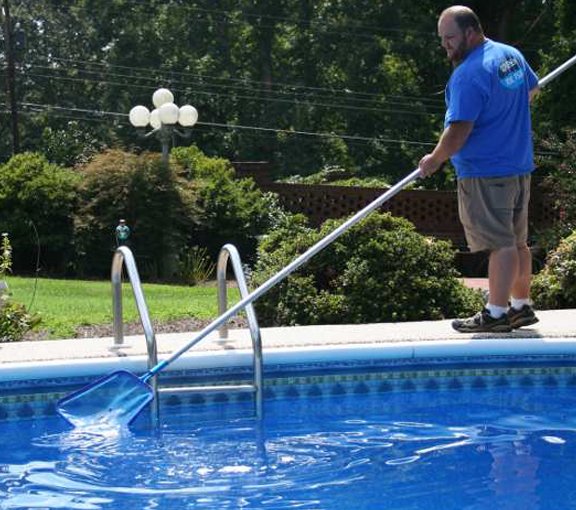 Weekly & Bi-Weekly
We provide shockingly affordable weekly and bi-weekly pool and spa maintenance services to the following communities; Morganton, Drexel, Valdese/Rutherford College, Lake James/Nebo, Glen Alpine and Oak Hill. Weekly service includes vacuum, chemical testing and addition, pump clean out, and filter backwash. For an additional fee, we will visit your pool twice per week to take care of cleaning the deck cleaning and maintaining your pool landscape. Contact us today to set up a maintenance schedule the works best for you.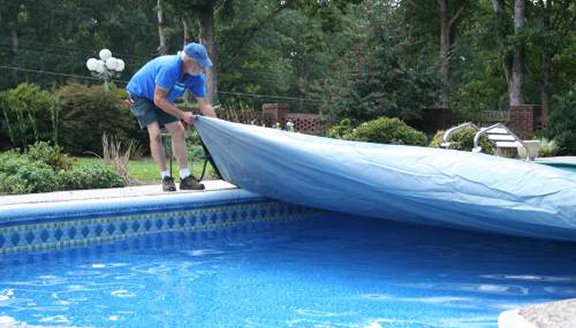 Vacation Coverage
Going away for an extended period? Don't let your pool suffer while you're gone. Sign up for our vacation coverage plan to have our trustworthy professionals take care of your pool. Depending on your specific needs, we can service your pool once or twice per week while you're enjoying your vacation. You can rest assured that we will keep your pool clear and your equipment in ship shape. This saves you time and money that you would otherwise have to spend just to get your pool clean and swimmable. The last thing you want to do is extra work after a vacation! With our vacation coverage, you can hop in your pool the minute you arrive home.
Emergency
With pool ownership comes the occasional pool repair. But some repairs are more urgent than others. If you have a fast, steady pool leak or any other emergency damage, Schoenen Pool & Spa is here to help. You can rest assured that our expertly trained technicians will properly diagnose the issue and perform the necessary repairs with the highest quality and excellence.